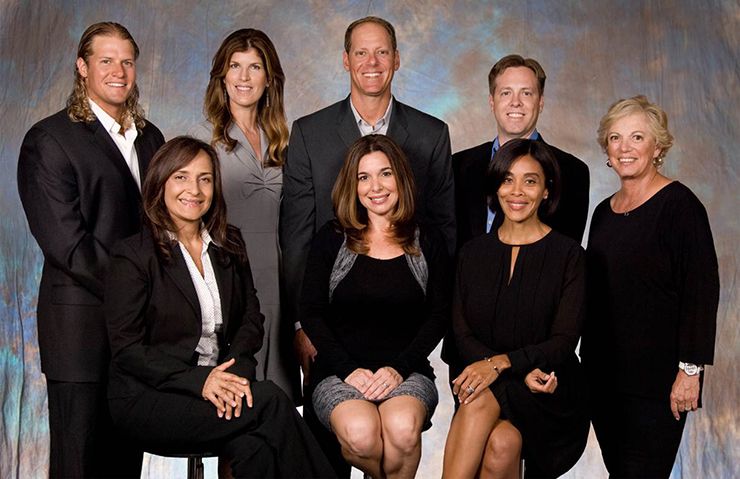 Eric Solomon
(954) 465-5745 Direct
(954) 384-8546 Office
Passionate and energetic, Eric Solomon is a key player in the local real estate market. His love for family, sports, fishing and boating make him a familiar member of the community. Combine this with his in-depth knowledge and dedication to the real estate market, and the result is a well-known, well-respected and well trusted salesperson.
A South Florida Native, Eric has been around the local residential real estate business his entire life. After earning a business degree from the University of Florida in the late 90's, Eric started making a name for himself as a leader in the residential real estate market. He quickly excelled in networking, marketing, and sales which propelled him to open Solomon Homes in 2003. Over the years, Eric has built up a large client base of Fortune 500 & 100 companies, CEO's, CFO's, professional athletes, lawyers, doctors, teachers, and the list goes on. His strong relationships built on trust and respect drive his business model for future referrals and recommendations.
Eric also specializes in Private Money Lending. He has assembled a group of investors that loan money to borrowers previously denied by traditional banking institutions. This has been a great niche over the years to structure seemingly impossible deals.
Whether you see Eric on the field coaching youth sports or at a formal networking meeting, you will be drawn to his down-to-earth demeanor. He truly enjoys his life and looks forward to all opportunities ahead.
"I'm definitely not perfect, but I strive to be and ensure complete trust!" – Eric Solomon
______________________________________________________________________________________
Meri Solomon
(954) 816-0818 Direct
(954) 384-8546 Office
Meri was raised in South Florida. After graduating Nova High School, she continued her education at the University of Florida and Nova Southeastern to become certified in early childhood education. Meri started her teaching career in Davie, Florida at Silver Ridge Elementary School. She taught kindergarten and first grade for three years before leaving to start a family.
Meri is an extremely driven person with a big heart. Serving on multiple committees that enhance programs for our youth, ill, and needy across South Florida, Meri is a well-respected member of the local community.
Once the three children were off to school, Meri started getting involved in the administrative side of Solomon Homes. As Solomon Homes expanded, Meri became licensed by the State of Florida as a realtor in 2013. Her attention to detail, connections across South Florida, and ability to connect sellers to buyers is special and unique.
______________________________________________________________________________________
Yndira Feldman
(954) 254-1579 Direct
(954) 384-8546 Office
Yndira was raised in the Dominican Republic. Once she graduated in the Hotel management program, she moved to the United States and began her exciting career at the Fairmont Turnberry Isle Resort and Club in Aventura, Florida. From being a front office representative, she moved up to being the credit manager in the Accounting department.
At this prestigious resort, Yndira was the president was the Service Plus Committee where she and her team members involved hotel employees in joining efforts to sponsor several nonprofit organizations such as Women in Distress and Children with Leukemia. In 2008, Yndira was recognized as the leader of the quarter by Turnberry. Her overall goal in life is to make a difference in people's lives.
Yndira became licensed by the State of Florida as a realtor in 2011. She has found in Solomon Homes a grand path where she can connect with sellers and buyers, focusing on the integrity and outstanding service they deserve.
______________________________________________________________________________________
Fran Solomon
(954) 804-6500 Direct
(954) 384-8546 Office
Fran has been selling real estate for over 40 years in South Florida. She has been recognized by several national firms over the years as a Top Producing Agent. She started her career in Hollywood and quickly saw the push to move west as a trend in Broward County.
Fran became an expert in areas like Cooper City, Davie, Plantation, Pembroke Pines, and Weston. She was one of the first agents to sell pre-construction homes through the Weston developer Arvida back in the late 80's. Her knowledge of floor plans, market research, and understanding the clients' needs are top notch and have allowed her to be so successful over the years.
Fran has taken classes over the years to become a relocation specialist and was the exclusive realtor for a major insurance company and numerous head hunters. When these companies brought in future employees, Fran was on the forefront of the interview and recuitring process, showing them the housing market and South Florida lifestyle. Her specialty has always been knowing the differences in the areas of South Florida and being able to show a variety of communities within the three counties.
"When Eric joined the team in 1998, he brought with him new innovations and ideas that really grew our business. It's wonderful to say that Eric used to work for me and now I work for Eric!" –Fran Solomon
______________________________________________________________________________________
Leroy Keating, P.A.
(954) 483-8802 Direct
(954) 384-8546 Office
(888) 491-4523 Fax
Leroy Keating has built an impressive reputation with his colleagues in the real estate industry. He developed a loyal following of clients over the past decade of selling real estate. His approach is to get to know his clients to better serve them and to guide them in all aspects of buying or selling a home. As a full service broker, Leroy assists his clients through every part of the sale process from listings, offers and contracts, appraisals, inspections, financing and closings.
Leroy utilizes his experience and his extensive insight into the South Florida real estate market in order to help his clients make thoughtful and knowledgeable decisions. Leroy knows it is important to have a keen sense of the current market conditions in order to maximize his clients' position in any real estate sale.
Leroy graduated from Florida State University with a Bachelor of Science in Psychology. He currently resides in Weston with his wife and two young children. He is a member of the National Association of Realtors and the Realtor Association of Greater Fort Lauderdale. When not selling Real Estate, Leroy enjoys all that South Florida has to offer and loves to go boating, diving, playing soccer, tennis, golf and enjoying the great South Florida climate.
______________________________________________________________________________________
Diana Rodriguez
(954) 612-8785 Direct
(954) 384-8546 Office
(888) 574-0159 Fax
Over the past twenty years, Diana has worked in several facets of real estate; her career began in commercial mortgage banking, followed by commercial real estate sales, and included sales and design of new home construction. Every experience served as an opportunity for professional growth, and provided her with a vast background. Diana has a proven record covering communities in South Broward County and Miami-Dade County, and takes pride in her duties and obligations as a Realtor. She is committed to providing the best in real estate services – in sales, rentals and property management – and working hard for her customers every step of the way.
Diana is a South Florida native, born and raised in Miami, Florida, and has been a resident of Weston, Florida since 2004. She is fully bilingual in English and Spanish. She is married to a United States Air Force Lt. Colonel (Ret.), which has provided her with amazing life experiences, and allowed her to understand the challenges and needs of military families with their frequent moves. She is an avid animal lover and dedicates time to causes for animal welfare.
Her affiliations include the National Association of Realtors, Florida Association of Realtors, and the Realtor Association of Greater Fort Lauderdale. She holds a certification in Professional Property Management, and serves as a volunteer with Volunteer Broward and the Humane Society of Broward County.
______________________________________________________________________________________
Jeff Ginsberg
(954) 552-7977 Direct
(954) 385-8546 Office
(888) 371-0293 Fax
A South Florida native, Jeff has been a Weston resident since 1992. He's watched Weston grow since before it was even a city, and with this experience he carries an in depth knowledge of the local market.
After earning a business degree at the University of Central Florida, Jeff quickly advanced as a Financial Analyst working with Turner Construction. He worked on many local Weston projects such as the Cleveland Clinic Egil and Pauline Braathen Center. With his friendly demeanor and unparalleled drive, Jeff will always work to find the deal best suited for each of his clients.
Jeff currently resides in Weston Hills and when he is not out finding the best deal for his clients, he is likely cruising the South Florida Intracoastal, biking, or working up a sweat in a tennis match.
______________________________________________________________________________________